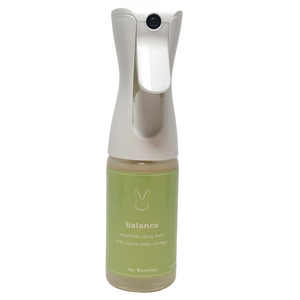 Balance Bunny, Organic, No Rinse, Waterless Misting Spray Shampoo 5.5 oz
Sale price Price $22.50 Regular price
Our Balance, organic, no rinse, waterless pet shampoo is very mild and lightly scented with  essential oil blend and requires no additional water. It's pawfect for Bunnies, Ferrets & Guinea Pigs. Simply spray your pet and wipe.
NON-TOXIC & VET RECOMMENDED: Our non toxic freshening & cleansing spray shampoo, balances the PH of the skin, while cleansing, moisturizing, conditioning and detangling the coat. The key ingredients are Organic Aloe Juice, Organic Coconut Oil, Organic Shea Butter and Organic Apple Cider Vinegar (which is great for removing urine stains). These powerful plants contain many natural compounds shown to have anti fungal, antibacterial, anti-inflammatory and oder neutralizing properties.
Our unique bottle design offers a quiet, consistent, gentle mist that makes clean ups quick and easy.
Made with love in the USA.
Ingredients:
Organic Aloe Juice, Organic Saponified Oils (Coconut, Shea Butter, Olive, Sunflower & Jojoba), Organic Vegetable Glycerin, Organic Guar Gum, Organic Shea Butter, Organic Lavender Essential Oil, Organic Calendula Extract,Organic Orange Oil, Organic Rosemary extract, Organic Cedar wood Oil, Organic Apple Cider Vinegar, Vanilla Essential Oil