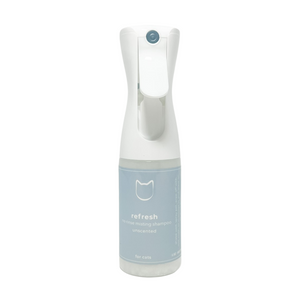 Refresh Cat, Organic, No Rinse, Misting Shampoo 5oz/ Unscented
Sale price Price $22.50 Regular price
JUST for cats. Our signature organic, no rinse misting shampoo that is unscented and promotes the natural moisture barrier of the skin.
Why unscented? Cat's livers cannot process scents, so to ensure the safest clean up solution, we stand by only offering you our unscented option for the best care of your fur baby.
You simply hold your cat and mist from behind (so they don't get scared) and wipe with a wet cloth. Safe to use several times a day for spot cleaning, bum issues, litter paws and as an all over dander remover.
Vet approved and made with love in the USA!