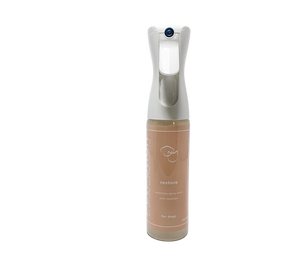 PetPotion Restore Organic, No Rinse, Waterless Misting Spray Shampoo 10oz
Sale price Price $26.97 Regular price
We believe what you put ON your pet is just as important as what you put IN them!

Our Restore blend is made for dogs only. This special blend is infused with therapeutic grade lavender essential oil.
For quick clean ups in between baths. Our non toxic formula is mild and safe for everyday use, even on the toughest pet odors. Use Restore often to restore skin and mood, to freshen coats, remove dander/allergens, soothe irritated skin, reduce all over itch and hot spots. It's a great quick cleaning spot treatment for dingleberries/bum issues, dirt, sand, and paws
Lavender is known to:
Relieve anxiety, stress, fear & hyperactivity
Soothe itchy skin
Soothe hot spots
reduce inflammation
act as an antiseptic
AND contain anti-bacterial & anti-microbial properties
We are passionate about taking the stress out of pet parenting while caring for the health of fur babies. All of our products have carefully researched and contain food grade ingredients. They do not interfere with flea and tick treatments. 
Key Benefits:
#1 WATERLESS SHAMPOO SPRAY: Use often to freshen coats, eliminate and neutralize pet odor, reduce all over itch and hot spots and as well as to remove dander/allergen. It's great to clean dingleberries/bum issues, dirt, sand and paws. It's like dry shampoo, but for your pets

EASY TO USE: Shake well, aim and mist pet generously, wipe off with a wet wash-cloth, or massage in & leave on. Air dries soft.

FOR ALL ADVENTURES: Our spray baths are perfect for cleaning your pet's coat after walks, hiking, camping, beach day romps, after doggie daycare, before photo shoots, a day in the park or a lazy day at home.
NEW! SIGNATURE SPRAY: Our unique bottle design offers a quiet, consistent, gentle misting spray that makes clean ups quick and easy. We have the most healthful, effective and efficient spray out there!
Ingredients:
Distilled Water,Organic Aloe Juice, Organic Saponified Oils (Coconut, Shea Butter, Olive, Sunflower & Jojoba), Organic Vegetable Glycerin, Organic Guar Gum, Organic Shea Butter, Organic Lavender Essential Oil, Organic Calendula Extract,Organic Orange Oil, Organic Rosemary extract, Organic Cedar wood Oil
Directions: Mist your pet, massage in and leave on or wipe it off with a wet washcloth or hand towel. (Using a wet cloth to wipe off your pet will keep them smelling fresher longer). Air Dries Soft!
 We believe in only lightly scenting our products so they don't bother dog's sensitive sense of smell.
*You can also freshen your dog's bed with Restore, if your dog doesn't mind the smell of lavender!
***Sediment at the bottom of the bottle is normal. This is because we do not use  toxic solvents. So just shake the bottle well before use!