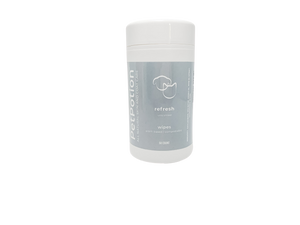 Refresh Plant Based/ Compostable Wipes- Unscented For Cats & Dogs
Sale price Price $17.97 Regular price
 Refresh PetPotion pet wipes have the same ingredients as our sprays, just in plant based/compostable wipe form! They are amazing with quick clean ups and eliminating odor without using any toxic ingredients.

We believe what you put ON your pet is just as important as what you put IN them!
Our Refresh blend is our only Cat and Dog product and is unscented!  
Great for faces, wrinkles, ears, paws, bums and the whole body!
We are passionate about taking the stress out of pet parenting while caring for the health of fur babies. All of our products have carefully researched and contain food grade ingredients. They do not interfere with flea and tick treatments. 

FOR ALL ADVENTURES: Our wipes are perfect for cleaning your pet's coat after walks, hiking, camping, beach day romps, after doggie daycare, before photo shoots, a day in the park or a lazy day at home. They're super easy for on-the-go freshening.
Ingredients:We use organic Shea Butter, Coconut oil, Aloe, Sunflower, Jojoba, Aloe, and Olive oils, and are 95% USDA certified with other soothing, pet safe ingredients.